Congratulations to returning champion Science Olympiad teams from Solon Middle School and Solon High School in Solon, Ohio, for their National Tournament success! 
Official Results for Divsion B - 2012 National Tournament (PDF)
Official Results for Division C - 2012 National Tournament (PDF)
Top 6 Places in Division B Events - 2012 National Tournament (PDF)
Top 6 Places in Division C Events - 2012 National Tournament (PDF)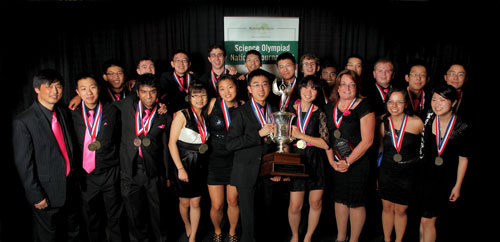 The 2012 Spirit Awards were presented to Troy Howard Middle School in Belfast, Maine, and Bayard Rustin High School in West Chester, Pennsylvania, for exemplary sportsmanship, respect and teamwork. Each school won a $2,000 check for their Science Olympiad program from partner Lockheed Martin.
The Science Olympiad National Tournament is the pinnacle of achievement for 120 of the country's best Science Olympiad teams, representing more than 2,000 students. This year, the Science Olympiad National Tournament was hosted on May 18-19, 2012, by the University of Central Florida in Orlando. On the UCF 2012 Science Olympiad National Tournament website, you'll find information about events like Bottle Rocket, Gravity Vehicle, Tower Building, Mission Possible, Robot Arm, Helicopters, Storm the Castle and more. 
Awards and Prizes
Science Olympiad is incredibly grateful to our sponsors and partners, who support the achievement of our Science Olympiad competitors by awarding fantastic prizes, cash scholarships and student and professional development opportunities. 
Scholarships, Awards and Prizes for Coaches and Students at the 2012 National Tournament (PDF) - Winner Info Added 5/29/12
Congrats for National Tournament teams from Senators from South Dakota, Minnesota, New Jersey and New Hampshire
AAAS Video and Story from 2012 National Tournament 
University of Central Florida Scholarship Offer for 2012 Science Olympiad National Tournament Gold Medalists - First place winners of individual events in Division C (high school) will be eligible for scholarships to the University of Central Florida worth $16,000 (or $4,000 per year up to four years) if they are in-state Florida students or worth $30,000 (or $7,500 per year up to four years) if they are out-of-state students. Best of luck!
Lockheed Martin Coaching Excellence Awards Nomination Form for 2012 National-Bound Coaches (PDF) - One coach per team may fill out this form to win one of four (4) expenses-paid trips to the Science Olympiad Summer Institute in Phoenix, Arizona, July 16-20, 2012. Bring the completed form to Registration at the National Tournament, or fill out a paper copy available at Registration in the Student Union. (see prize list above for winning teams)
Frequently Asked Questions Deadline
Note: The Science Olympiad FAQ system will close at midnight on Thursday, May 10, 2012, so be sure to ask any questions before that time.
Science Olympiad Global Ambassador Team from Japan
In 2009, Board Members Gerard Putz and Jim Woodland traveled to Tokyo, Japan, to present Science Olympiad concepts to Japanese education officials from the Ministry of Education (MEXT) and the Japan Science and Technology Agency (JST) at "Science Agora." In 2012, JST hosted its first-ever Japan High School Science Championships (JHSSC), crowning eight winners from the Saitama Prefecture. The Grand Prize for the competition is a trip to visit the 2012 Science Olympiad National Tournament at the University of Central Florida, where Japanese students will meet their American peers and participate as unranked guests in selected Science Olympiad events. Please welcome our friends from Japan in Orlando!
Tournament Media 
Media requests for interviews should go to Jenny Kopach, VP of Marketing Communications for Science Olympiad: [email protected]
Hometown Press Release Sample (Word) - Use this template to create your own personalized news release. Two news alerts about the National Tournament will be sent prior to the event, and a post-event release will be sent out early Sunday morning listing the Top 10 winners in each Division. Photos and an edited video package will be available for upload by the media on a FTP site. (URL posted soon)
State Team Numbers for the 2012 National Tournament (PDF) - updated 4/27/12
News
Army Adventure Semi and Air Force F-16 Command Center Alpha on campus all weekend! Check out the incredible interactive displays (a real fighter jet!) and find out more about exciting STEM opportunities, scholarships and college options. Find them in Parking Lot D2, just off the main promenade to the Arena. Lots of freebies!
The Opening and Closing Ceremonies will be live streamed! 
FOX 35's Good Day Orlando - Show will be broadcasting live shots between 7am and 10am from the National Tournament on Friday, May 18, in the area near the Army and Air Force attractions in Parking Lot D2!
National Tournament Scoring Policy
At the end of the Science Olympiad National Tournament Awards Ceremony each team's head coach will be provided one copy of the final scores. Places are tentative and may change if any scoring inconsistencies are brought to the attention of the arbitrators and verified within one hour after the ceremony is completed. If changes occur, the appropriate medals and trophies will be awarded. Teams will not be asked to return awards. In the rare case of a problem, call the National Tournament Director (head coach only). Scores for the National Science Olympiad are not official until they are posted on the soinc.org website.
Science Olympiad Sponsors