Official 2021 Science Olympiad National Tournament Results
Congratulations to the 2021 Science Olympiad Champions - Mason High School in Mason, Ohio (their first National Championship!) for Division C and Kennedy Middle School in Cupertino, California (back-to-back champs!) for Division B!
Results by Team Number - Division B
Results by Team Number - Division C
Top 6 Places by Event - Division B
Top 6 Places by Event - Division C
2021 Tournament Results Press Release - posted 5/25/21
The Science Olympiad National Tournament is the pinnacle of achievement for 120 of the country's best Science Olympiad teams and our Global Ambassador Team from Japan, representing more than 2,000 students. The 37th Annual Science Olympiad National Tournament will be hosted in partnership with Arizona State University from May 17 to May 22, 2021 - and we're going all-virtual. Below you'll find everything you need about Tournament Week, the STEM Expo, competition day and more! 
Opening Ceremony - Live at 5pm MST/PDT, Friday, May 21 - Science Olympiad TV on YouTube
Awards Ceremony - Live at 5pm MST/PDT, Monday, May 24 - Science Olympiad TV on YouTube
2021 Science Olympiad National Tournament Program 
2021 Science Olympiad National Tournament Press Release - posted 5/20/21
Arizona State University News Release - published 5/19/21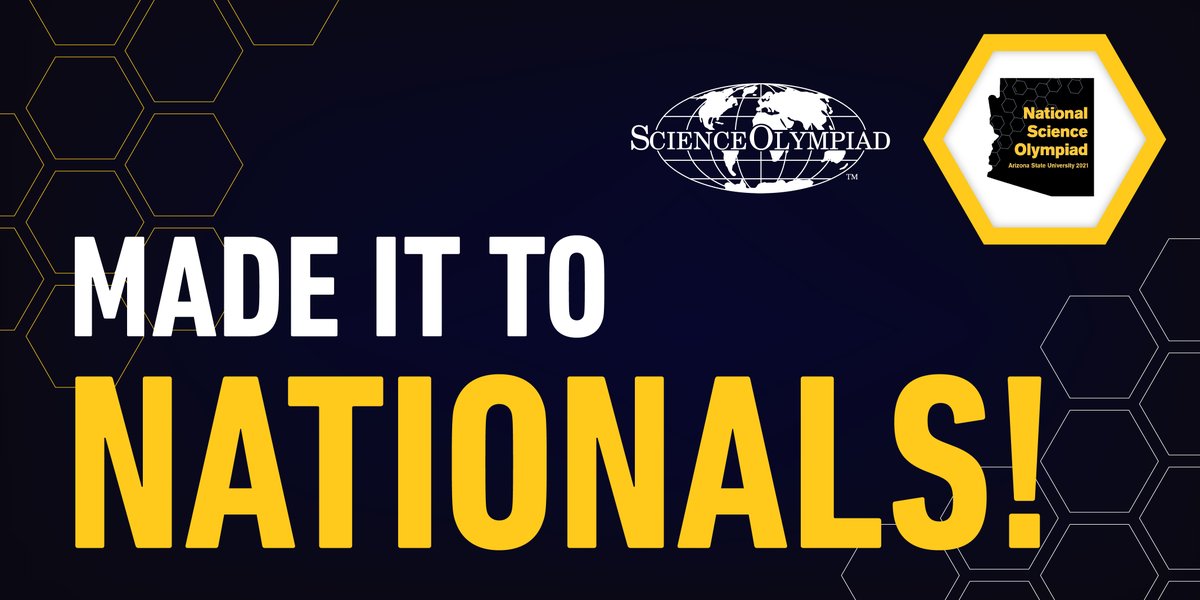 News and Updates
National Tournament Events, Format and Schedule
National Tournament Event Slate - Updated 4/14/21
Division B Tournament Day Schedule - Updated 4/27/21
Division C Tournament Day Schedule - Updated 4/27/21
National Tournament Event Modifications - Posted 4/29/21
Trial Event Rules - Chiropterology, Digital Structures - Posted 4/14/21
National Tournament Info/Forms for Attending Teams
Printable 2021 National Tournament Congratulations Letter 
State Team Numbers - Posted 4/1/21
Parade of States Video Submission Guidelines
Science Olympiad Smart to be Good Program - As a gesture of gratitude to the city that would have hosted our in-person 2021 National Tournament, Science Olympiad and Arizona State University are partnering with the St. Vincent de Paul Food Reclamation Center of Greater Phoenix to fight hunger. From May 17 to May 21, 2021, Science Olympiad teams, coaches, parents, officials, sponsors and volunteers will be invited to donate any amount. Let's show our Science Olympiad spirit to those who need a hand. It's Good to be Smart, and Smart to be Good! #3CS #SO2021ASU
National Tournament Scholarships, Awards & STEM Expo
Science Olympiad $50K Founders' Scholarships - To honor the founders of the national Science Olympiad organization, Dr. Gerard and Sharon Putz and Jack Cairns, Science Olympiad awarded five outstanding high school seniors with $10,000 college scholarships. Application & winner info found on our Scholarships page. 
2021 Science Olympiad Awards and Prize Winners! - Science Olympiad is grateful to our sponsors and partners, who support the achievement of our Science Olympiad competitors by awarding fantastic prizes, cash scholarships and awards. - Posted 6/4/21
2021 Coaching Excellence Award - Four middle school (Division B) and four high school (Division C) coaches will be selected to receive free registration, building materials, first-look access to the 2022 rules and chance to work with top officials at the all-virtual Science Olympiad Summer Institute (SOSI) July 11-16, 2021. Nominate a coach or nominate yourself to receive this award!
Team T-Shirt Contest - Division B and C teams are encouraged to submit their team t-shirt designs for a national contest. Entries are due Friday, April 23. 
STEM Expo & National Tournament Week May 17-21, 2021 - Check out the STEM Expo page for daily Expo Talks given by Science Olympiad alums, a college-going panel discussion from our ASU Ambassadors, webinars, special contests, awards announcements and prizes!
Scoring Process
At the conclusion of the Science Olympiad National Tournament Awards Ceremony on Monday, May 24, 2021, on this page, we will post a copy of the final scores for the tournament. A team's head coach has one hour from the end of the Awards Ceremony to submit compelling evidence of a scoring inconsistency using this Team Ranking Inquiry Form (this will be a live link the night of the 2021 National Tournament Awards Ceremony). If the evidence is verified, the appropriate points, medals and trophies will be awarded for that team only. Thinking that your team "did better" than scores reflect is not considered compelling evidence. Teams will not be asked to return awards or relinquish any points. Scores for the 2021 Science Olympiad National Tournament are not official until they are posted on the Science Olympiad website as Official Results. For more information about Scoring please see our Policies page.  
Global Ambassador Team From Japan
In 2009, Board Members Dr. Gerard Putz and Jim Woodland traveled to Tokyo, Japan, to present Science Olympiad concepts to Japanese education officials from the Ministry of Education (MEXT) and the Japan Science and Technology Agency (JST) at "Science Agora." A partnership between Science Olympiad and JST was born, founded on a shared passion for making science competition fun and exciting for all students. In March 2021, JST hosted its 10th Annual Japan High School Science Championships (JHSSC), where the Grand Prize for Rakuhoku High School in the Kyoto Prefecture is a chance to participate in the first-ever, all-virtual 2021 Science Olympiad National Tournament presented in partnership with Arizona State University. As they did at the 2012-2019 National Tournaments, Japanese students will join their American peers online in tests, march in the virtual Parade of States and participate as unranked guests in selected Science Olympiad events.
Please welcome the 2021 JHSSC Winners and Coach from Rakuhoku High School in Japan, in front of their beautiful cherry blossoms!
Science Olympiad Sponsors