Science Olympiad Medals & Trophies
Science Olympiad does not permit orders of single/individual/extra medals and trophies by coaches/parents. Instructional trophy assembly video here. 
To order official Science Olympiad medals and trophies, please follow the instructions below:
Elementary Medals: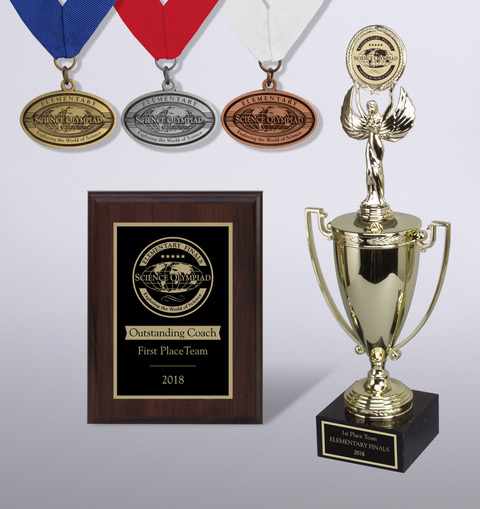 Download Elementary Order Form (Excel) - updated for 2024
1. Complete and send form plus payment to Science Olympiad.
2. Make sure you keep a copy for yourself and then send another copy to the Science Olympiad office via email to Deb Mendenhall. If you are submitting a Purchase Order please email it with the Medals order.
3. If you are submitting a Purchase Order please email it with the Medals order OR you may mail a copy of the emailed Medals order form plus your Purchase Order to the Oakbrook Terrace address below, (not the PO Box for the Store). Please do not send faxes for medals and trophies to the Science Olympiad Store!
4. If you are paying by mail, include a check, money order or purchase order with your completed order form.
5. If you would like to pay by credit card, fill in your custom amount here.
Invitational Medals:
Invitational Medals 2023-2024
Order Form to Send Medals to ONE Tournament Director Shipping Address
If you are hosting a Satellite or Mini SO tournament, please reach out to [email protected] for a multiple shipment order form.
Regional or State Medals:
The order form for these medals is located in the password-protected section of the website under Directors. Please use your issued username and password to log in or ask your state director for an access code to download the order form. 
Science Olympiad Sponsors